About the village Bouzov
Bouzov is located in the picturesque countryside of corners of the highlands Drahany.
It is in the northwestern part of the Olomouc Region. There is an area of 4232 ha. The community is formed by 13 villages: Bezděkov, Blažov, Bouzov, Doly, Hvozdečko, Jerman, Kaderin, Kovářov, Kozov, Obectov, Olešnice, Podolí, Svojanov.
On January 1, 2015 there lived 1 536 inhabitants in the municipality Bouzov.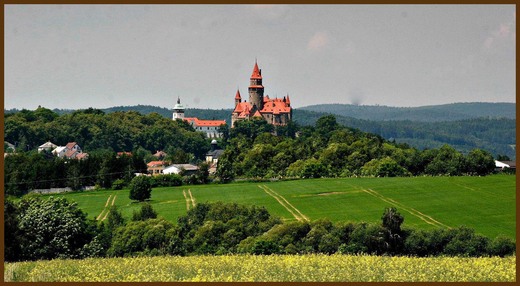 One of the most visited places is the village Bouzov. The dominant feature of Bouzov is the castle, which attracts tourists from all sides of world. You can visit the gallery named ,,V podhradí" within a wooden Troja horse. Near to the castel there is a very popular tourist attraction - mini cars. If you want to relax in the nature you can stroll around the beautiful komplex of three ponds, which were renovated in 2000. The hiking trail is very popular with cyclists. It leads from Bouzov to Javoříčko, Kozov, Loštice and further into its surroundings.
The name of village Bouzov was apparently originated in the 14th century by the founder of the village Bouzov - Mr. Búzov from Bouzov. Mr. Búzov was the first mentioned owner of this domain. He let build a watch castle around the trade route from Olomouc to Jevíčko.
Many different Czech noble families changed on the Bouzov manor untill the 17th century. The most famous family were the Family of Kunštát and the Family of Poděbrady. In Bouzov should be supposedly born the Czech King Jiří from Poděbrady.
In 1695 the last Czech owner sold the whole Bouzov property to the Order of Teutonic Knights because of its liabilities.
In 1850 Bouzov became part of the newly created district office in Litovel. Thus, although Bouzov was freed from the law dependence of the Order of the Teutonic Knights the decisive economic dependence that time still remained.
Bouzov was characterized as a small poor town till the second half of the 19th century. It was fully influenced by the former government.
The most important event in the history of this village was the great reconstruction of the castle at the turn of the 19th and 20th centuries. The conversion was realized under the government of the archduke Evžen Habsburský. This total reconstruction changed neither the appearance of the castle nor the image of the whole area. The population increased and Bouzov became a cultural and social centre of the district Bouzovsko.